Do you want to get your favorite products cheaper? There is nothing less simple! Register now. Points are earned for each purchase and can be redeemed for discounts on your next order.
Great news is that registration is the only thing needed to enjoy discounts. The most important detail in the registration is the email. It must never be changed. Email is an account to which not only the points for purchase in e-shops www.kombe.cz, www.puredistrict.cz and www.puredistrict.eu are recorded, but also the points for purchase in our PURE DISTRICT shop. The shop is located close to Náměstí Míru in Prague, at Budečská 11. Therefore, it is important to log in using one email to avoid losing collected points.
How to use your points for purchase?
You can not only purchase using your points in our PURE DISTRICT shop, but you can also use them online on www.puredistrict.eu. For e-shop products you can see their value in points. 
In addition, registered users are activated the option of purchasing the product for a new, significantly lower price, when they reach the required level of points.
Example: Do you want to buy WHAMISA Cleansing Oil?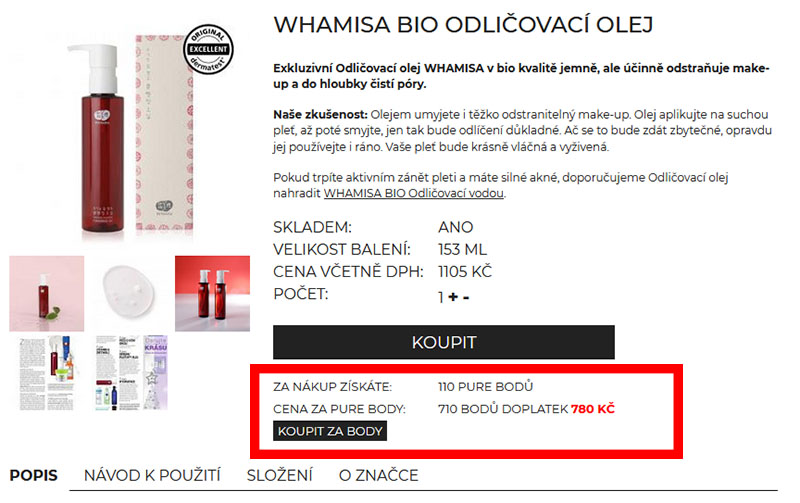 Log into PURE PROGRAM using your email. If you have enough collected points, each product displays a button PURCHASE WITH POINTS. See the image above. After putting the product in the basket, the discounted price CZK 585 is automatically uploaded and 570 PURE points are deducted in the PURE PROGRAM.
No account yet?

Click on REGISTER in the upper right corner. Fill in short registration and start collecting your points. The current account status and the number of points available in the registration details of the PURE PROGRAM section.
Important information

PURE PROGRAM is a loyalty program intended for all registered customers, the membership is free and not binding. It allows using benefits such as collecting and applying PURE PROGRAM points.
The offer of selected products purchased with a discount based on the number of collected points can be changed according to the current stock status. Great selection is always guaranteed.

You get points for purchasing goods at a reduced price or in an outlet.